unsurpassed expertise and production capabilities


Calvary has a complete quality process to ensure every product is manufactured to all specifications before it leaves the facility. When an order is placed, a delivery note is sent to the production manager who then generates a batch sheet with a unique lot number. The database software controls formulas by preventing unwanted variations and lists the approved blending vessels based on batch size. This feature assures the product is properly mixed, with appropriate ventilation and compatible with tank material composition.
The generated batch sheet gives the process steps for the operator to follow. The batch sheet includes safety precautions, PPE, pack-out instructions (pumps/filters/hoses/special requirements) and tank cleaning instructions. The Operator must enter lot numbers (for traceability); the quantity of each material used and sign-off after every process step. For every raw material purchased, a specification has been issued. The supplier must certify their product meets our requirements and provide a Certificate of Analysis with each shipment. These COA's are checked to ensure all raw materials used for production meet our specifications.
After production is completed, a sample is taken and submitted to the QC lab with the batch sheet. Trained lab technicians review the paperwork to confirm completion and conduct the specified testing for the product. The test results are entered into the QC database. Our software will not allow the product to be approved if specifications are not met. Samples are retained as per our Retention Schedule and stored onsite in a designated area for easy access.
After the product meets all specifications, lab personnel place a "QC Approved" sticker on the pack-out instructions to indicate it is ready for packaging.
The operator must sign off on each step of the packaging process to ensure that all requirements have been met. The operator then prints and applies the GHS container labels with Lot # before the product is sent to stock or shipping. 
For further information please contact Quality Assurance Manager, Kimberly Fraley. Onsite review of the QMS and quality procedures is available up request.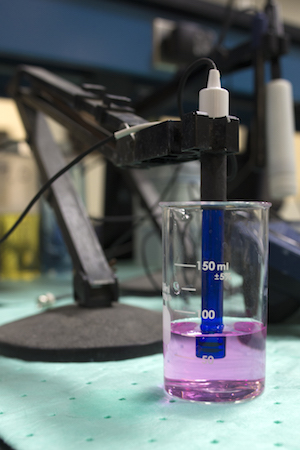 We'd love to hear from you.